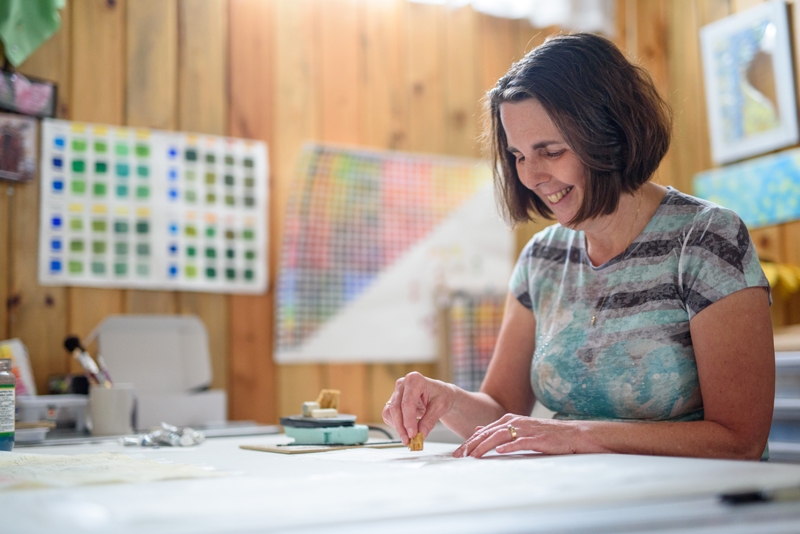 Welcome to my Studio … a bit about me …
Saskatoon, Saskatchewan, Canada is home and, although the weather is a constant topic of conversation and not always to our liking, this is a great place to live. For me the most important reason is that our family is nearby.
In my paid work life I was a lab tech before having children and then as they grew I worked in the areas of accounting and technical support, most recently at Family Service Saskatoon. The hours I worked varied and some sort of creativity was always part of my life. Over the years I tried many things: crocheting, tatting, cross stitch, sewing, leather craft, cake decorating, calligraphy, jewellery making, scrapbooking, paper making, folk art painting, watercolour, photography, cooking. All of these have become part of my artist-self. The opportunity to focus on and truly express myself through art has come in recent years.
Over the years, I took a lot of 'folk art' painting in both acrylic and watercolour. I had fun and learnt a lot in these classes. The problem I encountered was that I had been well taught and was so focused on 'following the rules' that I had trouble loosening up. I credit these instructors with empowering me to be confident enough to enrol in the University of Saskatchewan's Certificate in Art and Design (USCAD).
The USCAD instructors nurtured my inner creative self and I was encouraged to experiment with a wide range of media, techniques and styles. Every class brought new discoveries and I am thankful for the support of the instructors and students I shared classes with. I completed the program in August of 2014.
One of the assignments was to create a batik. While batik is traditionally a process of using wax as a resist while dying fabric I wanted to explore the concept and see how I could use it in my own way. I have used the same sort of process on eggs at Easter time and wondered how else could it be used?
As I was researching I came across tutorial on watercolour batik by Kathie George from Ohio. At the time, my focus was on watercolours however, I had been experimenting with encaustic (painting with hot wax) so this seemed like something I should try.
I worked through the tutorial, and I was fascinated. Somehow, all of my learning to this point seemed to come together – I knew about composition, using colour and value to create three dimensional images, colour mixing and most importantly, how to melt wax. I was on a roll. Combining her project with some of my encaustic painting tools and experimenting as I went I developed my own ways of working and I continue to make new discoveries.
This watercolour batik process was perfect for helping me let go of the need for precision. Ginwashi paper is very thin and therefore the paint spreads instantly so I needed to let go of control. Also wax is only liquid while heated and has its own challenges in application. All of this gives the finished pieces an abstract quality with amazing texture!
I am a member of: the Saskatchewan Craft Council, CARFAC, The Batik Guild (UK), and The Artists' Workshop Group.
My work can be found at the Saskatchewan Craft Council Boutique, AND ART Gallery in Davidson and on my website.